Enjoying Caviar de Duc in Russian style
As one of the largest farming and providing sturgeon companies in the world, Vietnam Sturgeon Group recently introduced the first caviar brand of Vietnam – Caviar De Duc at an event entitled "Frangrance & Flavor – A night with Beluga".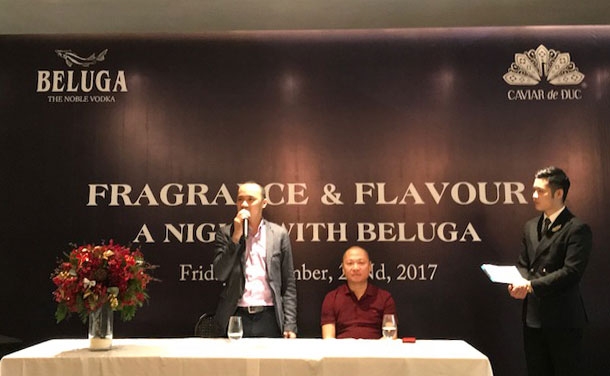 At the event, Mr. Le Anh Duc – Chairman of Vietnam Sturgeon Group said: "As a member of the International Sturgeon Association, the production of Vietnam Sturgeon Group is currently the highest in the world with the quantity of about 3 million raised at 5 group aquaculture centers in hydroelectric reservoirs across the country. So far, we are proud to be independent and own the egg-to-egg process, which means that we can breed the original sturgeons, annually we can supply the market with 5-7 tons of caviar."
Currently, the domestic market of sturgeon is still very potential but the biggest difficulty for the Group is the Northern market still being dominated by Chinese sturgeon, in addition to the geographical cause due to its proximity to the China border, the price of Chinese sturgeon is also 20-30% cheaper than Vietnamese sturgeon.
However, according to Mr. Duc: "To ensure the quality of sturgeon meat and caviar, we must strictly follow the process of raising and nursing, food, the content of nutrients in the formula, time and the amount of food… We cannot have good quality of sturgeon meat and caviar from feeding them anytime, any kind of food. It's obvious that sturgeons which are too fat cannot produce good caviar and meat. For a better quality of sturgeon, your farming time must be longer and thus the production cost will be higher. "
Introducing the caviar brand of Caviar de Duc for the very first time to the domestic market, Vietnam Sturgeon Group wants to introduce a brand new product, which is expected to contribute to the diversity and richness in the culinary culture of Vietnamese people. And it will no longer be a "premium" product only when Vietnam has completely mastered the sturgeon breeding process, it is clear that all people can enjoy a quality product that we used to have to import previously.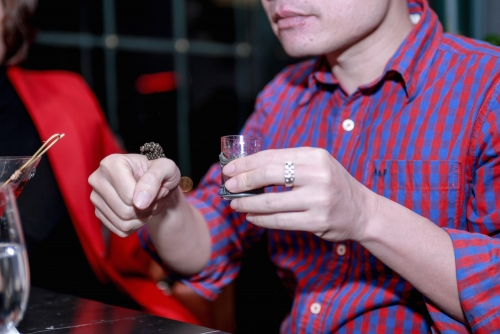 In addition to the event, Mr. Le Anh Duc also shared the culinary style in processing and enjoying caviar in the unique Russian style: "Beluga is the name of a high-class sturgeon and extremely rare in Russia. We are still raising and developing this sturgeon breed. To enjoy and feel the taste of caviar, you should pair ir with the cold Russian vodka. This is a style of Russian cuisine that has existed for a long time, it would be a huge loss if you skip it when enjoying caviar."
Thu Hường
http://kinhtevn.com.vn/thuong-thuc-trung-ca-tam-caviar-de-duc-theo-phong-cach-nga-30327.html
Our Partners