Into the kingdom of sturgeon in Vietnam
With the advantages of geography, climate characteristics, environmental conditions, many hydropower reservoirs in Tay Bac and Tay Nguyen are very suitable for cultivating and exploiting the cold water fisheries resources including sturgeon. The development of sturgeon in recent years at hydroelectric reservoirs has contributed to promote Vietnam into the group of 10 countries with the largest sturgeon production in the world.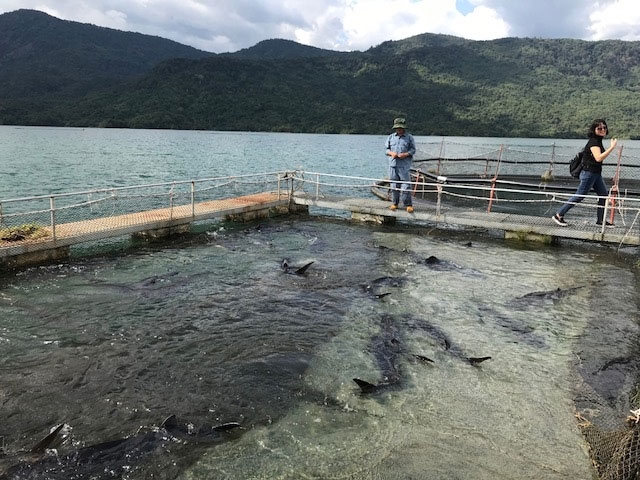 Beluga sturgeons are raised in Da Mi hydropower reservoir
King of the fishes
Sturgeon has a very high value, especially sturgeon caviar which is greatly popular on the international market. Especially, the black caviar of Russian sturgeon is well known as an invaluable black "pearl"; and one of the top 10 rare and precious products of the world. Besides, the meat and cartilage of sturgeon are especially rich in DHA, this is a valuable natural source of nutrition and natural sturgeon resources are highly limited.
In Vietnam, sturgeons have been brought and raised by Vietnam Sturgeon Group since 2007 with an effort to exploit cold water fisheries resources at hydroelectric lakes in northern mountains as well as Tay Nguyen. After 10 years, Vietnam Sturgeon Group has developed 5 aquaculture farms in Vietnam including: Lam Dong, Binh Thuan, Binh Dinh, Dak Lak and Son La, the total farming area is about 80,000m2 of water surface with 3 million sturgeons. In 2018, this unit will continue to deploy 2 more projects in Lac Duong (Da Lat) and Khanh Vinh (Khanh Hoa) as well as continue to expand Da Mi (Binh Thuan), branches in Dak Lak and Son La will double the area of water surface farming, bringing the total cultivated water area to 160,000m2 and 5 million sturgeons.
According to Mr. Nguyen Van Khai – Chairman of Tam Long Da Mi Joint Stock Company, said: "At the present, the commercial fishery output of the whole group reaches about 1,000 tons / year, the caviar products could be about 500 tons. Particularly in Da Mi hydropower reservoir, we have nearly 200 square cages and more than 100 round cages with a total area of 27,000m2 for fish farming with about 800,000 sturgeons, we expect to raise the quantity up to 1.5 million sturgeons in 2018 after expanding the farm area."
Into the kingdom of sturgeons
Beyond more than 120km from Lien Khuong Airport (Lam Dong), we were at Da Mi hydroelectric reservoir, the adjacent to Ham Thuan Bac district (Binh Thuan) and Bao Loc city (Lam Dong). The climate in Dami is as cool as Dalat, this is the reason for sturgeons from Russia and Europe can grow in Vietnam.
Da Mi hydropower reservoir (Binh Thuan) covers an area of about 700ha, with a cool year-round climate advantage, sturgeon raised in Da Mi lake of Vietnam Sturgeon Group is very well developed and disease resistance because the temperature of the lake is always below 20οC, there is no industrial production as well as the impact of the population around the lake (only more than 10 households live around the reservoir area). Along with that, the current farming area of Tam Long Da Mi Joint Stock Company only occupies 2.5ha / 700ha of water surface, so the environment of the lake water is always clean and not affected by the harmful discharges from the industrial production as well as residential activities.
There are about 800,000 sturgeon in Da Mi reservoir, after 1.5 years, it is possible to sell with an average weight of 3-5 kg/pc. Tam Long Da Mi Company produces about 10 tons of sturgeon with an average price of 280,000 VND/ kg monthly. Technical staffs of the company must check the weight as well as the health of sturgeons daily. The farming process based on the international standards GlobalGAP of Vietnam Sturgeon Group has minimized adverse impacts on the environment as well as ensure the safety for the health of workers and consumers.
Especially, the group does not use hormones or antibiotics for the sturgeons, and build large tanks but stock a small amount of fishes to reduce their stress levels and increase the quality of the caviar in order to create a reputable brand for caviar made in Vietnam.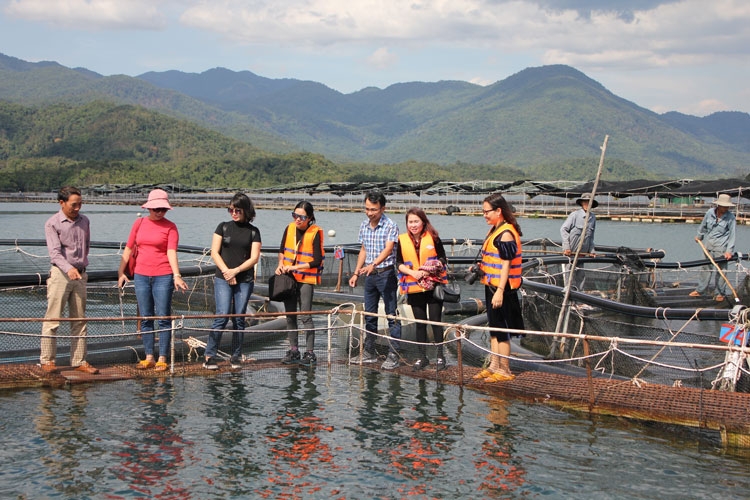 Da Mi hydroelectric reservoir has an area of ​​nearly 700ha, but the area used for sturgeon farm is only about 2.5ha of water surface. Each sturgeon cage is designed about 50m2 of width and has a depth of about 5m. With the coldness of Da Mi lake, they can only farm commercial fishes as well as develop mother fishes then bring up to Da Lat for caviar production. To secure the water environment, each cage in Da Mi only for 500 fishes. Growing fishes are separated into each cage to ensure the density to adapt to growth requirements of each stage of sturgeons.
By raising in clean water, using natural food and importing directly from the international leading providers of sustainable and innovative nutritional solutions for the fisheries industry, the sturgeon products of Vietnam Sturgeon Group has a comparable quality to sturgeons caught in the wild.
Gradual market invasion
Currently, the sturgeon product quantity is still not enough for the demand of the domestic market, the Group is gradually expanding the farming area, in preparation for this period, from the beginning, the Group intends to gradually master the breed. With the help of Russian experts and the efforts of experienced aquatic engineers, the group's hatchery at Tuyen Lam Lake (Da Lat City, Lam Dong), the group's sturgeon have hatched and bred successfully. This is a key factor for Vietnam Sturgeon Group to "knock out" the illegal imported sturgeons China in the South areas and start to invade the market in Northern Vietnam.
According to Ms. Ngo Thi Kim Phung – Director of Vietnam Sturgeon One Member Limited Company – the unit in charge of breeding of the Group, said: "8 years or older sturgeons in special treatments would be qualified for producing caviar. The products labeled Caviar de Đuc of Vietnam Sturgeon Group have been in almost 5-star hotel systems in Vietnam and also exported to some international markets such as Singapore, Japan, France…, especially been exported back to Russia, the homeland of sturgeon, Da Lat hatchery annually produces from 1.5 to 2 million sturgeons for breeding purposes to commercial farms throughout the country.
From the breeding fishes in Da Lat transferred to commercial farms, after selecting female ones to produce black caviars, the farms will transfer female sturgeons to Da Lat. Due to the self- control of fish stocks, the group has saved about 60% of the cost of importing breeding fishes from overseas.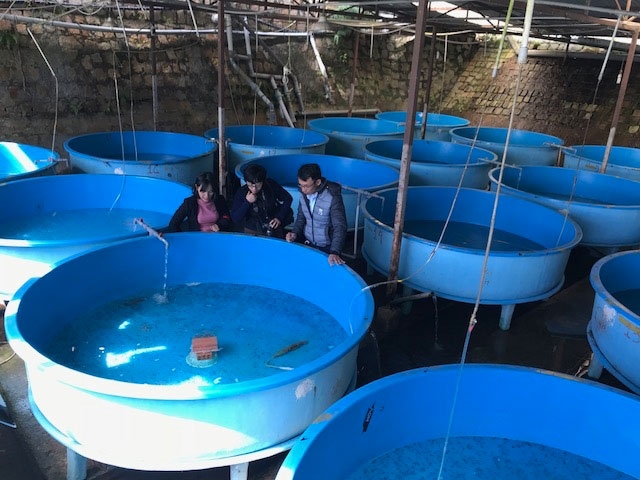 The female sturgeons carrying eggs will switch to the wintering stage with water temperature below 10oC in order to consume fat and give more quality caviar. This period lasts from 1-2 months depending on the process of checking on the eggs. After undergoing artificial wintering and through rigorous testing, high quality sturgeons will be used to exploit caviar – black sturgeon caviars. At the present, the caviars are mainly supplied to the domestic market and exported to foreign countries with a quantity of only a few tons per year.
In fact, Vietnam Sturgeon Group has reached the milestones of sturgeon development which changes the structure of Vietnamese aquaculture, in 2014, the production of 400 tons of meat fish and 4.8 tons of caviars. In 2017, there were over 1,000 tons of fish meat and 500 tons of caviar. 2018, they are expecting to provide the market with about 2,000 tons of commercial fishes and continue to increase the output of caviar.
Song Hà
Our Partners